Order Instruction Manual
Downloadable Instruction manual available here Goodada Inspection Instruction Manual

How to place an order for an Inspection
Step 5: Inspector confirms order
- Click on the "Inspection Quote" button.

- Buyer completes the application form, including the correct email address
- Buyer clicks submit button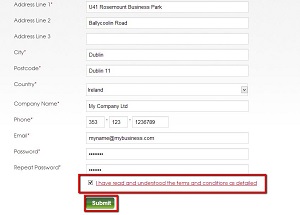 Step 2:

Buyer logs onto the website

Step 3

:

Buyer selects the Inspection tab an inspection order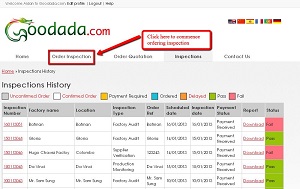 Step 4: Buyer inputs Information on the Inspection Request form
The Buyer must input information in the following sections
4.1 Basic Inspection Information - (Inspection Details)
- Select the type of Inspection that you require.
- Input if this is a re-inspection
- Input your Inspection reference number
- Select the dates that you require the inspection to take place
- Select your shipping date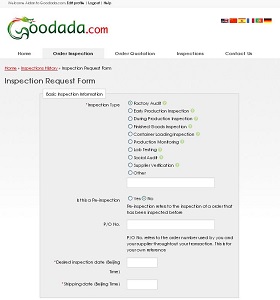 4.2 Inspection Location Information & If you require an additional person to receive the report - (Area where Inspection is required to take place)
- Factory Name
- Inspection Location
- Contact Person and their details
- Name and email address of an additional recipient for the inspection report ( if required)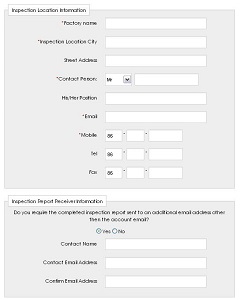 4.3 Inspection Requirements – Information on what is required to be inspected, including
- Product Information (Names and quantities of product)
- Product Specifications (Colour, Dimensions, Weight, Materials)
- Packing (Labels, Manuals, Packing Specifications)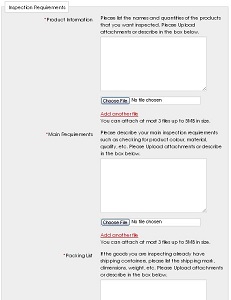 4.4 Inspection Receives Confirmation that Order has been placed
- Note this may take a few minutes
- Progress can be followed on upload progress reader on the bottom left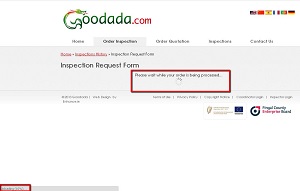 - You will be redirected back to your Inspections History Panel
- Your order will be classed as "unconfirmed" in the Inspections History Panel
- You do not have to pay until the inspection has been accepted by Goodada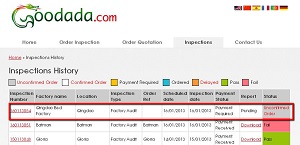 Step 5: Inspector confirms order
Step 6:

Buyer pays for Inspection
- **Below is for Paypal - For Stripe Payments, an invoice will be sent to your email with a Payment link**
- On the Inspections History Control Panel, you will see the status of your order as "Confirmed".
- Please click on "Pay" in the corresponding Payment status.
- This will direct you to the payment section, which is operated by PayPal,who will process your payment.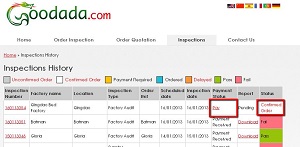 - Buyer is directed to the PayPal window
- Buyer completes out the PayPal information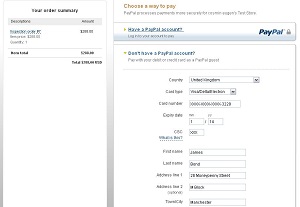 - Buyer reviews information
- Buyer confirms the payment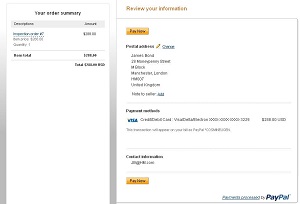 - Buyer returns to their Inspection History Control Panel and will see the status of their inspection turn blue and have "Ordered" this confirms that payment has been processed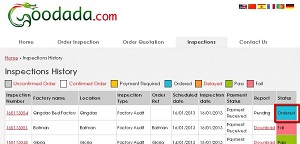 Step 7: Inspector conducts inspection and uploads report
- Buyer can download information from their Inspection Control panel
- Results are colour coded
- Report available at "Download" function