About Goodada

A Global Quality Control Inspection & Audit Company
Goodada Inspections is one of the world's leading Third-Party Quality Control Inspection and Audit firms. We work with companies from the world's top global brands who seek to enhance their quality control processes to start-up firms looking for support to build a quality control process.
Goodada Inspections offers Audit & Quality Control Inspections in over 76 countries. We are experts at visiting locations to carry out a range of Inspection Services and Factory Audits.
A European owned Inspection Company
We are a European owned and managed Third Party Inspection and Audit company. Founded in Ireland in 2004, we started under the name of TCI China. As our client base grew, we were asked to provide more quality control Inspections services across Europe and Asia.
In 2012, to reflect our global inspection coverage and offer clients an online experience, Goodada Inspections was established. Today, Goodada offers Third Party Inspection services and Audits in over 76 countries. We offer services across Europe, South America, Asia, Africa and the Middle East.
Goodada has become one of the world's Top Third-Party Quality Control Inspection & Audit firms. We have clients from over 100 countries and employees from all corners of the world.
We have customer support centres across Europe, Asia and North America. To contact Goodada, please visit our Contact Centre page.
Our Global Headquarters are located in Dublin, Ireland. In addition, Goodada has offices in China, UK, USA.
A Leader in online Quality Control Inspection Services
To enable its launch in 2012, Goodada received a significant endorsement when it received funding from the Government of Ireland and the European Union to design and build its online platform. These funds enabled Goodada to become Europe's Top online Third-Party Quality Control Inspection and Audit firms.
Goodada's inspection platform enables clients to book and coordinate their inspection orders. Clients see the inspection results and access their inspection reports through the system. This facility makes it easy for clients to manage their global quality control requirements.
Goodada Quality Control Inspections Video
(Click on image to view video)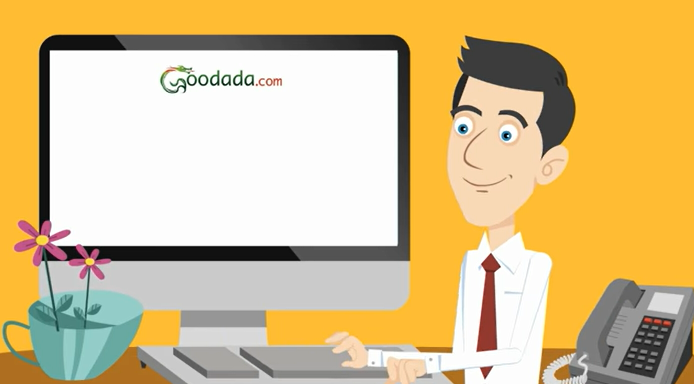 About the Goodada Name
The name Goodada is derived from 2 sources:
The first source is the word "Dada" which represents father. This has been incorporated into Goodada's name in recognition of the fact that most businesses are family run business.
The second source is a very ancient Gaelige word which represents "Wisdom".
The Goodada name is green in colour. Green is the national colour of Ireland.
The Goodada Dragon is from Chinese culture. In this culture the Dragon represents Knowledge, Independence and Guidance.
The neck and the head of the Dragon have distinct colours. The red colour of the neck represents the Seller whilst the light green colour represents the Buyer. This symbolises the neck and head working together in partnership to benefit the whole body.
The Dragon is looking out past the Goodada logo. This is a representation of Goodada assisting and facilitating companies to trade past their current trading area.