Footwear Inspection Quality Control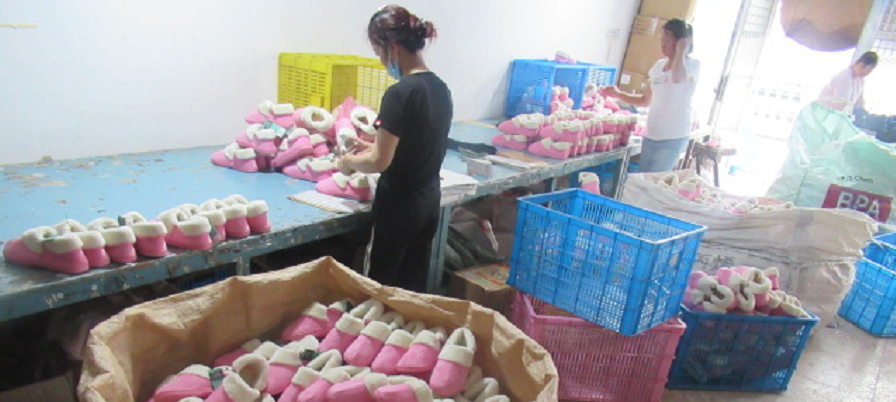 Footwear Inspection Quality Checks and Footwear Testing
Footwear Quality Control Inspection - Goodada can visit any footwear factory location across 76 countries within 72 hours. You can receive updates from our inspection consultants within 24 hours after the footwear inspection has been completed. Goodada offers Third-Party Footwear Inspection services in the world's leading footwear exporter countries, including China, Vietnam, Indonesia, India, Portugal, Italy, Cambodia, Belgium, Netherlands, Turkey and Germany.
Why use Goodada to conduct Footwear Inspection?

Get footwear products or Suppliers checked at any location within 72 hours.

Amend your footwear inspection order 24 hours before the day of the inspection.

Our footwear inspectors can update you during the inspection.

Goodada specializes in footwear testing and offers footwear inspections across 76 countries.
Tips when sourcing footwear - Background Information
It is always advisable to have detailed footwear specifications, including sizes, materials, designs, stitching, labels and packing.
When shipping products during the summer, it is advisable to make sure that the container floor is lined with water absorbent materials as there can be a build-up of condensation due to the summer heat.
Only pay the balance for the order after the products have been inspected and the goods have left the factory.
For more information about our Footwear Inspection Testing QC, please contact:
Contact Person: Aidan Conaty
Mobile- Messenger (Click to Connect)

Laptop / PC (Click to Connect)

Phone:(Europe/ Rest of the World) +353 1 885 3919 ; (UK) +44.020.3287.2990 ; (North America) +1.518.290.6604
Goodada offers the following types of Footwear Testing Quality Control Inspections.

Footwear Factory & Supplier Checks
Our Footwear
Factory & Supplier Checks
are requested by clients interested in buying footwear from a new factory. This service is also used by clients who are experiencing difficulties with an existing factory. Our footwear inspectors can visit a supplier in any of the
76 countries
where we offer our Inspection and Audit services.

Completed Footwear Inspection at a Factory
An FGI Footwear Inspection is conducted at the factory when 80% of the footwear order has been completed. The inspection is a visual check of specifications, quantities, dimensions, packing requirements and shipping marks. During this inspection, any on-site testing such as sizes and sewing checks can be conducted, or samples can be collected to be independently tested. Our footwear Inspectors can conduct this inspection in any of the 76 countries where we offer our footwear checks and audit services.

Footwear Loading Inspections at a Sellers Warehouse
An Inspection is part of Goodada's Footwear Inspection Quality services. It is conducted when your products are being packed into the shipping container. During loading, the inspector can check that the goods are correctly loaded and the container is securely closed and sealed before departure. Our Footwear Inspectors can conduct a Loading Inspection in any of the 76 countries where we offer our inspections and audit service.

During Production Inspection Checks at the Footwear Factory
It is one of the most popular Footwear Inspection Testing services. This Inspection is conducted when the footwear is in the process of being manufactured. The purpose of a During Production Inspection is to update you on expected production completion times. Our footwear Inspectors can conduct a During Production Inspection in any of the 76 countries where we offer our inspections and audit service.

Footwear Parts and Materials Inspection Service
Our Raw Materials Inspection focuses on the raw materials and machinery used to make your footwear. It is the only stage where the raw materials can be checked to ensure that they meet your quality requirements. If any independent laboratory tests are required on any raw materials, it should happen at this stage. Our Inspectors can visit any footwear factory across any of the 76 countries where we offer our QC services.

Labour and Child Labour Checks of Footwear Factories
Goodada's Social Audit is used to evaluate a firm's working conditions, its code of conduct and its responsibilities to its employees. The purpose of Social Audit is to promote, develop and maintain workplace practices that are socially acceptable. A Social Audit reassures your customers and suppliers that your business is socially accountable and sources from ethical suppliers.

Save Money when Souring Footwear from International Sellers
Goodada's specialized online Freight Insurance can protect you against all risks and include the full value of the footwear order, and the cost of shipping and trade duties. Get an instant quote with Goodada's Online Freight Insurance service.
Save Money when you pay for Footwear with Goodada's International Payments. Avoid banking fees and get better exchange rates. Try Goodada International Payments service today.