Netherlands Quality Control Inspections
Netherlands Quality Inspections - Supplier Audits & Product Checks
Netherlands Quality Inspections - The Netherlands stands as one of the founding members of the European Union, a testament to its long-standing commitment to the European community. When it comes to international trade deals, they are primarily brokered by the EU. Key exports from the Netherlands include machinery and transport equipment, chemicals, mineral fuels, food and livestock, and manufactured goods. Focusing on these export categories, Goodada's Netherlands QC Inspection services specialize in areas like manufactured goods, fruit and vegetables, electricals, clothing, furniture, chemicals, and machinery. The Netherlands boasts a diversified employment sector: 82% in services, 17% in industry, and 1% in agriculture.
As global trade dynamics continuously shift and evolve, the benchmark for impeccable quality remains unchanging. Enter Goodada's Netherlands Quality Control Inspections, a service crafted to safeguard and amplify the Dutch reputation for quality. Our services encompass a broad spectrum of products and industries, illustrating the depth and range of our inspection expertise.
Choosing Goodada as a partner means international traders gain an ally synonymous with trust and unmatched proficiency. As a renowned International Third-Party Inspection company, we extend our Quality Inspections or Vendor Audits to over 76 countries. Our global reach, including inspectors strategically located in crucial global regions such as Europe, Asia, and the Americas, ensures our esteemed position at the vanguard of global trade, delivering quality assurance par excellence. Beyond the Netherlands, Goodada provides QC Inspections across Europe, including nations like Luxembourg, Norway, Portugal, and Poland.
Why choose Goodada as Your Third-Party Inspectors in the Netherlands?
Have an inspector visit any location across the Netherlands within 48 hours.

Receive an online detailed report within 24 hours after the inspection has taken place.

Change an inspection order up to the day before the inspection takes place.

Have Sellers and Products inspected to International Standards.
For more information about Goodada's Netherlands Quality Control Inspections please contact:
Contact Person: Aidan Conaty
Mobile- Messenger (Click to Connect)

Laptop / PC (Click to Connect)

Phone:(Europe/ Rest of the World) +353 1 885 3919 ; (UK) +44.020.3287.2990 ; (North America) +1.518.290.6604
Goodada offers the following types of Audits & Quality Control Inspections in over

76 countries

.

Supplier Audits and Verifications in the Netherlands
Navigating the Dutch market requires precision, given the complex ecosystem of suppliers and the diverse range of products available. In an era dominated by digital trade platforms, ascertaining the authenticity of suppliers and the credibility of their operations is paramount. This underlines the importance of our Netherlands supplier verification audits.
We pride ourselves on offering holistic supplier verification audits tailored for businesses partnering with Dutch suppliers. Our seasoned QC Auditing team verifies the identity, reputation, and operational legitimacy of suppliers in the Netherlands. Collaborating closely with clients, we ensure our solutions align perfectly with their unique requirements.
The scope of our verification audits is broad, encompassing aspects such as identity verification, business registration scrutiny, and reputation assessment. Moreover, we provide consistent monitoring, guaranteeing that suppliers uphold the requisite standards continuously.
Deploying our Netherlands supplier verification audits translates to supreme confidence in partnering with bona fide and dependable Dutch suppliers. Whether you're sourcing niche Dutch products, services, or even contemplating breaking into the Dutch market, our expert solutions minimize risks and assure seamless, efficient transactions.
We're steadfast in our mission to uphold the highest standards of service and maintain the commercial integrity of the Netherlands marketplace. Reach out to us to explore how our Netherlands supplier verification audits can propel your business to greater heights. For a deeper dive into our offerings, visit our Seller Audit and Verification page.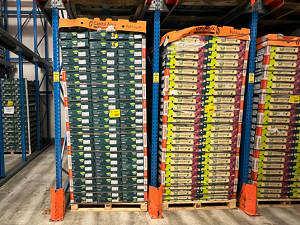 Netherlands Inbound Cargo Inspections
Are you expecting shipments at a Dutch port or warehouse? Require a thorough verification by an independent third-party before accepting the consignment? Goodada's Netherlands Inbound Cargo Services fit the bill perfectly. Our seasoned inspectors can be dispatched to any location, ensuring the received quantities align seamlessly with the packing list. They further perform a meticulous visual assessment of the goods, detecting potential defects or visible damages.
Our adept quality control team conducts comprehensive inspections at major Dutch ports, including the Port of Rotterdam, Port of Amsterdam, and Port of Zeeland, as well as prominent airports such as Amsterdam Airport Schiphol and Eindhoven Airport. Their primary mission is to validate the product's congruence with the packing list and specified criteria. Our client-centric approach entails streamlining the inspection process, requiring only elementary information and managing the entire inspection operation on the client's behalf.
This suite of services witnesses heightened demand from clients who've faced grievances from Dutch customers about possibly faulty or mismatched goods.
Leveraging our Netherlands Inbound Cargo Inspection service ensures your shipments are scrupulously vetted at key Dutch transit points. This proactive measure guarantees adherence to quality standards before distribution. Dive deeper into the specifics of this service or to orchestrate an inspection by visiting our specialized Inbound Cargo Inspection page.

Product Checks in the Netherlands
Before shipping goods, it's pivotal to ensure that they adhere to the specified quality standards, especially when dealing with suppliers in the Netherlands. Recognizing this crucial need, our team of skilled inspectors is at your disposal to visit your supplier's location in the Netherlands.
During their visit, they meticulously assess your order for accuracy in specifications, quantities, dimensions, packing, and shipping marks. The inspection is comprehensive and can also include any on-site testing as required or the collection of samples for independent evaluation.
Our commitment is to offer you the confidence to proceed with your shipping, knowing that your products have undergone rigorous checks and meet the agreed-upon criteria.
For a deeper understanding of the processes and advantages of this inspection service, please visit our Finished Goods Inspection page.

Netherlands Outbound Loading Inspections
Ensuring that your goods are accurately and safely loaded for transport is critical, especially when dealing with outbound shipments from the Netherlands. Our Netherlands Outbound Loading Inspection provides you with that assurance. As your goods are being loaded onto trucks, ships, or shipping containers, either at the seller's warehouse or prominent ports in the Netherlands, our inspectors are on-site to verify and witness the process, ensuring the utmost precision.
Shipping from the Netherlands requires attention to detail. The proper loading of your products is essential to ensure their safety and integrity during transport. With our team of experienced inspectors overseeing the loading process, you can have confidence in the security of your shipment.
Throughout the Container Loading Inspection, our professionals ensure that each product is loaded correctly. This also includes verifying that containers are securely sealed post-loading, minimizing potential transport-related damages.
With the intricate nature of shipping, ensuring the proper loading of your goods is paramount. Goodada is committed to providing top-tier Outbound Loading Inspections in the Netherlands. To get a clearer picture of our offerings and to benefit from our unmatched expertise, please visit our dedicated Container Loading Inspection page.

Netherlands Supplier Code of Conduct Writing and Auditing Services
The Netherlands business landscape has faced its share of scrutiny, especially when concerns of worker exploitation and environmental impact are raised. As awareness and societal responsibility grow, the Dutch public expects local businesses, particularly those involved in imports and trade, to align with ethical Netherlands Supplier Code of Conduct standards. In today's age, Dutch consumers are becoming less tolerant of child labour, employee mistreatment, and all forms of discrimination. They seek assurances that their purchases promote fair trade, support employee wellbeing, and reflect a dedication to environmental sustainability.
For Dutch businesses, it's imperative to ensure that their suppliers, both local and international, adhere to a strong code of ethical conduct. This code should be at the forefront of worker rights, contribute positively to the community, and underscore the importance of environmental responsibility. Neglecting this key component may jeopardize brand credibility and could even result in a downturn in profitability.
Goodada has emerged as the preferred ally for companies in the Netherlands, dedicated to embedding the Netherlands Supplier Code of Conduct guidelines into their operational framework. Our offerings aren't just confined to crafting tailor-made codes; we also provide exhaustive auditing services to ensure suppliers uphold and abide by the established ethical standards. In the modern-day context, Dutch customers demand transparency and evidence that brands are effectively monitoring their supply chains. For an in-depth look at our array of services, we invite you to explore our Supplier Code of Conduct Standards page.

Netherlands Trade Support Services
Trade with the Netherlands has never been more streamlined and cost-effective with Goodada's suite of support services.
Goodada International Payments:
Making payments in Euro to the Netherlands? Sidestep exorbitant banking fees and benefit from superior exchange rates with Goodada International Payments. It's not just a transaction; it's an experience that prioritizes your savings. To explore how much you can save and to commence your journey of seamless international payments, direct your attention to Goodada's International Payments page.
Goodada Cargo Insurance:
The logistics of trade can sometimes be unpredictable. Safeguard your investment from unforeseen risks with Goodada's Cargo Insurance. Our comprehensive coverage doesn't just stop at the intrinsic value of your goods. It extends to encompass shipping costs, duties, and even anticipated profits, ensuring that your financial interests remain protected at all junctures. Whether it's a minor mishap or a major setback, we've got your cargo covered.
Navigate the world of international trade with the Netherlands confidently, backed by Goodada's commitment to quality, transparency, and unparalleled service.