Germany Quality Control Inspection

Germany Quality Control Inspection and Verification Services
Germany Quality Control Inspection - Germany stands out as a paramount exporter within the European Union. It maintains a leading position on the global export stage. Transactions involving international trade for Germany are channelled through the auspices of the EU. The nation chiefly exports products such as steel, coal, cement, chemicals, and machinery, including automobiles and machine tools. Other significant exports encompass food and beverages, including fruits, as well as shipbuilding materials, clothing, electrical, and furniture. Leveraging Goodada's Germany Quality Control Inspections ensures adherence to your specified product standards and considerably reduces costs associated with product failures. These inspections can be facilitated at any manufacturing, distribution or storage facility within Germany.
The previous year, Germany recorded a monumental export value exceeding €1,575 billion, with primary markets being the USA, France, China, the Netherlands, and the UK. Germany's expansive and diversified export portfolio allows it to sustain a thriving global market presence.
To mitigate risks associated with fraud and substandard products, Goodada offers a range of third-party quality control inspection services in Germany that address the needs of most clients. Did you know that Goodada offers quality control inspections across all countries in Europe including Finland, France, Greece and Hungary. We also have services in South America and Asia.
For more information about Germany Quality Control Inspections, please contact:
Contact Person: Aidan Conaty
Mobile- Messenger (Click to Connect)

Laptop / PC (Click to Connect)

Phone:(Europe/ Rest of the World) +353 1 885 3919 ; (UK) +44.020.3287.2990 ; (North America) +1.518.290.6604
Goodada offers the following types of Germany Quality Control Inspections across Germany:

Supplier and Buyer Verification Services in Germany
In the multifaceted landscape of international trade, fostering transparent and steadfast relationships with your trading partners is paramount. Goodada's unparalleled Supplier and Buyer Verification Services in Germany are meticulously designed to steer your business toward secure and fruitful trade relations, whether you are exploring new supplier avenues in Germany or scrutinising the credibility of potential buyers.
Comprehensive Supplier Verifications and Factory Audits in Germany
Use Goodada's expert QC team for meticulous inspections and audits, giving you a comprehensive insight into your potential or existing supplier's operations in Germany. Our experts investigate quality control systems, adherence to manufacturing standards, and trading history, laying the foundation for a partnership grounded in trust and reliability.
Germany Inspection Factory Audit and Supplier Verifications
Traverse the complex supplier network effortlessly with Goodada's Germany Inspection Factory Audit and Supplier Verifications. Our experienced team embarks on a detailed on-site analysis of production facilities, ensuring your potential partners comply with the stringent standards required in the international marketplace.
In-Depth Assessment to Establish Supplier Legitimacy
Trust our strategic assessment to ascertain supplier legitimacy, safeguarding your business interests. This service includes a detailed line of questioning to verify the presence and quality of the goods you intend to procure, establishing a transparent and trustworthy business relationship.
Buyer Verification Services in Germany
In addition to suppliers, verifying the credibility of potential buyers is equally crucial to fostering a safe trading environment. Goodada's Buyer Verification Services in Germany assists you in performing background checks on potential buyers, analysing their financial stability and business history to mitigate risks and ensure a smooth business transaction.
Tailored Buyer Verification Solutions in Germany
Our Buyer Verification Services in Germany are tailored to meet the distinct requirements of your business, offering detailed reports that grant you a deeper understanding of your potential business partners. We verify legal compliances, financial standings, and reputation in the market, empowering you with the information needed to make informed business decisions.
To learn more about these services, please visit our Supplier Verification Service page or our Buyer Verification Service page.

Third Party Quality Inspection Services in Germany
In the fiercely competitive environment of international trade, securing the highest quality standards is imperative. Leveraging Goodada's Third Party Quality Inspection Services in Germany ensures that your business operates with an elevated degree of assurance, safeguarding against the potential fallout of partnering with suppliers offering non-compliant goods.
Expert Third Party Quality Inspection Services in Germany
Our third-party inspection service experts specialize in evaluating a vast array of products, embodying the precision and the quality that Germany is globally renowned on. From high-precision machinery to cutting-edge pharmaceutical goods, we validate the intrinsic quality embedded in every German product, promising uncompromised quality assurance at every stage.
Tailored Inspection Solutions in Germany
Goodada understands that distinct products necessitate unique inspection approaches. Therefore, our Third Party Quality Inspection Services in Germany are crafted to align seamlessly with your business requisites, offering bespoke solutions that encompass exhaustive checklists ranging from quantity verification and detailed specifications to adherence with stringent packaging protocols.
Collaborative Quality Assurance Services in Germany
Engaging proactively with suppliers to rectify discrepancies before the shipment progresses ensures you avoid potential hurdles related to returns or rejections. Our Third Party Quality Inspection Services in Germany are designed to foster collaboration, steer your business clear of conflicts and nurture a robust supplier relationship.
Enhance your business integrity with Goodada, a trusted name in Third Party Quality Inspection Services in Germany. We urge potential partners to delve deeper into our diverse offerings presented on our Types of Inspections page, a testimony to our commitment to fostering quality and operational excellence in the international trade landscape.

Product Loading Checks in Germany
Product Loading Checks in Germany by Goodada ensure the secure and accurate loading of your goods during the shipping process. Especially significant for shipments originating from Germany, our service offers peace of mind knowing that your goods are handled properly.
Our experienced team offers product loading checks at major hubs, including the renowned Port of Hamburg, the extensive Port of Bremen/Bremerhaven, and the strategically situated Port of Kiel. Leverage Goodada's expertise at either the seller's warehouse or any bustling port in Germany, where our inspectors ensure meticulous oversight during the loading process onto various transportation mediums such as trucks, ships, or shipping containers.
Discover how Product Loading Checks in Germany can secure your shipping endeavours by visiting our detailed Container Loading Inspection page. Learn how Goodada's unmatched expertise in product loading checks in Germany can be a substantial asset in protecting your shipments.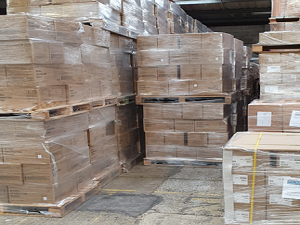 Cargo Inspections in Germany
Are you in the process of shipping products to Germany and find yourself in need of a reliable third-party verification to check the products when they arrive into Germany? Look no further, as Goodada's Cargo Inspections in Germany service is tailored to meet these exact needs. Our experienced inspectors can be dispatched to any location in Germany to ensure the received quantities match exactly with the packing list, while also performing a careful visual assessment to identify any potential defects or visible damages.
Our highly skilled quality control teams also operate at major German ports and renowned airports. We prioritize a client-centric approach, meaning we streamline the inspection process to require only the essential and necessary information from you.
Choose Goodada's Cargo Inspections in Germany to address any complaints that customers in Germany may have with a delivery. If you have received a complaint from a customer about missing goods or a delivery of defective goods. We can send an inspector to meet the client and review the issue. We can then provide you with an independent assessment of any issues discovered.
To understand more about how we can assist you in maintaining the highest standard of quality control, we invite you to explore our dedicated Cargo Inspections in Germany page for a deep dive into the range of services we offer or to arrange an inspection for your shipments.

Germany Vendor Code of Conduct Support Services
Germany Vendor Code of Conduct Support Services - In recent years, companies operating in Germany have been under increasing scrutiny, with a heightened focus on issues such as worker exploitation and environmental sustainability. The current societal trajectory emphasizes a strong demand for responsible business conduct, particularly from businesses involved in imports and trade.
It has become a societal norm in Germany for local and international consumers to expect businesses to align with principled ethical trading values, showcasing a steadfast commitment to eradicating child labour, promoting employee wellbeing, and advocating for environmental sustainability.
For German enterprises, aligning with a resilient and ethical Vendor Code of Conduct is not just a choice but a necessity. Adhering to a code that protects worker rights, enriches communities, and underscores a commitment to environmental sustainability is vital in maintaining brand credibility and ensuring profitability.
Goodada stands as a pinnacle of support in Germany, aiding companies in integrating the Germany Vendor Code of Conduct Support Services within their operational frameworks. Beyond crafting bespoke codes of conduct, Goodada offers rigorous auditing services to ensure that suppliers not only agree to but actively uphold these essential ethical standards, promoting transparency and demonstrating active monitoring of supply chains to meet the expectations of contemporary consumers in Germany.
For a comprehensive insight into how we can enhance your business's adherence to ethical norms, we welcome you to visit our Germany Vendor Code of Conduct Support Services page, where you can explore a wide array of services designed to foster a more responsible and sustainable business landscape in Germany.

Freight & Transport Insurance for Germany
Freight & Transport Insurance for Germany - Leveraging your business's shipping logistics in Germany has never been more secure with Goodada's Freight & Transport Insurance for Germany. Whether you are transporting goods within Germany or beyond its borders, safeguard your valuable assets from unforeseen financial risks arising from damages or loss during transit. Head over to Goodada's Freight & Transport Insurance page today to get a competitive quote that caters to your individual shipping necessities in Germany, assuring you a policy that is both comprehensive and customized to your requirements.
Moreover, streamline your cross-border financial transactions to or from Germany with Goodada's Foreign Currency Payments Service. Sidestep excessive bank charges and unfavourable FX rates when transferring funds in foreign currencies or Euros (EUR). Dive into the economical and efficient monetary solutions curated by Goodada, and enjoy a more substantial retention of your resources in all your dealings related to Germany. Enhance your financial and freight operations in Germany with the tailored services offered by Goodada, your trusted partner in Freight & Transport Insurance for Germany.