Philippines Inspection Quality Control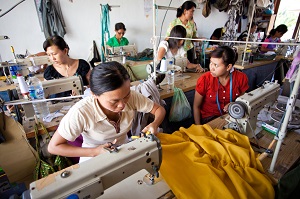 Philippines Inspections - Supplier Checks and Production Inspections
Get an inspection anywhere in the Philippines within 48 hours.

Receive an inspection report within 36 hours after the inspection.
Why choose Goodada's for Your Philippines Inspections?

You can amend your inspection order 48 hours before the day of the inspection in the Philippines

Our Product Inspections and Factory Inspections are conducted to internationally recognised guidelines.

Where applicable, our Philippines inspectors can send you and update you during the inspection.

Inspections can be conducted in across all areas of the Philippines.
Philippine Trading Information
The Philippines is a member of the ASEAN Free Trade Area (AFTA). It can trade internationally through its own bi-lateral deals.
The main export commodities from the Philippines are semiconductors and electronic products, machinery and transport equipment, wood manufactures, chemicals, processed food and beverages, garments, coconut oil, copper concentrates, seafood, bananas/fruits.
Goodada's Philippines Quality Control and Factory Inspections offers clients access to our network of Philippine inspectors who can visit a factory in the Philippines and conduct and inspection for you. Our inspectors aim to be at the factory in the Philippines within 48 hours from completion of the online the order.
The labour force in the Philippines are mainly working in the service sector with 57% of the available workforce in this sector. Agriculture has more people working in it when compared to industry with 25% in agriculture compared to just 18% in Industry.
If you are having any trading problems in or are buying products from the Philippines, our Philippine Inspection services will be of great assistance to you.
For more information please contact:
Contact Person: Aidan Conaty
Mobile- Messenger (Click to Connect)

Laptop / PC (Click to Connect)

Phone:(Europe/ Rest of the World) +353 1 885 3919 ; (UK) +44.020.3287.2990 ; (North America) +1.518.290.6604
Goodada's most popular Philippines Quality Control Inspections are:

Supplier Audits in the Philippines (FA)
Clients who order our Supplier Audits usually have issues with a Supplier or are seeking to prevent issues from a Supplier. This Audit is very useful to assist you in deciding whether to purchase products from a new potential supplier in the Philippines or not to purchase products from this supplier. It is also very useful in price negotiations as it gives the impression to the Supplier that you are giving serious consideration about buying products from the supplier but you are still not prepared to take risks. Visit
Goodada's Supplier Audit
page to learn out more
more about Goodadas Quality Control Inspections in the Philippines.

Container Loading Inspections in the Philippines (CLI)
Our Philippine Container Loading Checks focuses on the quantities loaded into a container and advises you as to what products have been sent to you. Our inspectors visit the location in the Philippines where the products are being loaded into the shipping to conduct this inspection. You should allow 5 days between a Finished Products Check and a Container Loading Check. Please visit Goodada's Container Loading Checks page to learn out more about part of our Philippines Quality Control Inspections.

Finished Products Inspections in the Philippines (FGI)
After a Supplier Audit, this is probably the most important Philippine Quality Control Inspection Service. This inspection focuses on quantity, specifications, packing, shipping marks and function. Our inspectors can visit the factory in the Philippines within 48 hours of the order being placed online. A Finished Goods Inspection can commence when 80% of the products have been produced. To learn more, please visit Goodada's Finished Products Inspection.