Nigeria Quality Control Inspection
Nigeria Quality Control Inspection Services
Nigeria Quality Control Inspection - Nigeria is big; it has the largest population with over 210 million people, and the largest economy in Africa. Apart from oil and oil-based products, the main exports from Nigeria include cereals, food, chemicals, cocoa, fruit, and nuts. Nigeria imports a variety of goods such as food, electrical, furniture. Goodada's Nigeria Quality Control Inspection services can occur at any warehouse, port, or factory across Nigeria. Our inspectors can check products that have arrived into the country or are due to be transported out of the country.
Last year, Nigeria exported just over $34.9 billion worth of goods. Its main export destinations are India, Ivory Coast, and the Netherlands. Nigeria imported over $55 billion worth of goods. The main export partners for Nigeria include China, the USA, India, and the Netherlands.
Goodada QC Inspections can send our quality control inspectors or auditors to most locations in Nigeria. Our inspectors can assess any potential buyer or seller, inspect any goods or witness products unloaded from a shipping container, or truck.
Did you know that Goodada offers quality control inspections in over 76 countries? We inspect in most regions across the world, including Africa, Europe, Middle East, South America, and Asia?. Some of the countries we QC in include Rwanda, South Africa, Morocco and Madagascar.
To learn more about inspections in Nigeria, please contact:
Contact Person: Aidan Conaty
Mobile- Messenger (Click to Connect)

Laptop / PC (Click to Connect)

Phone:(Europe/ Rest of the World) +353 1 885 3919 ; (UK) +44.020.3287.2990 ; (North America) +1.518.290.6604
Nigeria Pre-Shipment Inspections, Vendor Verifications, and QC
Have a Vendor Verified to confirm that they are real.

Have an inspector visit a potential buyer to ensure that they are not fake.

Have your goods checked before they are shipped out of Nigeria.

Have your inspector check any goods that have been sent to Nigeria.
Goodada offers the following Quality Control Inspection Services in Nigeria:

Seller Verification & Buyer Checks in Nigeria
Seller Verification and Buyer Checks in Nigeria - Are you looking to source goods from Nigeria but don't trust the seller? Have you received a sales enquiry from a buyer in Nigeria but need to know if they are real or fake? If you answer yes to any of these services, then Goodada's Audit service can provide you with extra assurance. Our Audit team can visit any vendor or purchaser in Nigeria to confirm they exist and review their business history, trading legacy, products traded, and export or import records. To learn more, please visit our
Nigeria Audit page.

Pre-Shipment Inspections Checks in Nigeria
Pre-Shipment Inspection Checks in Nigeria - Are you buying products from a seller in Nigeria? Do you want to have them checked at the seller's location before shipping them out of Nigeria? Goodada's Pre-Shipment Inspection in Nigeria service can provide you with these solutions. Our inspector can visit any site in Nigeria to count the quantities and check the specifications, dimensions, packing, shipping marks, and labeling. The inspector will provide you with a detailed report of his findings. Did you know that a Pre Shipment Inspection is also known as a Finished Goods Inspection? To learn more, please click on Goodada's Nigeria Pre Shipment Inspection.

Independent Loading Inspections in Nigeria
Loading inspections in Nigeria - Are you shipping goods out of Nigeria? Do you need to confirm quantities of the goods, check the labeling or have random spot checks conducted on the products? Goodada can send an independent third-party inspector to review your products during the loading process. Our inspector will independently verify that the correct quantities have been loaded into the trailer or shipping container is securely closed and sealed before departure. You will receive a report within 36 hours after the inspection has been completed. To learn more, please visit Goodada's Loading Inspections page.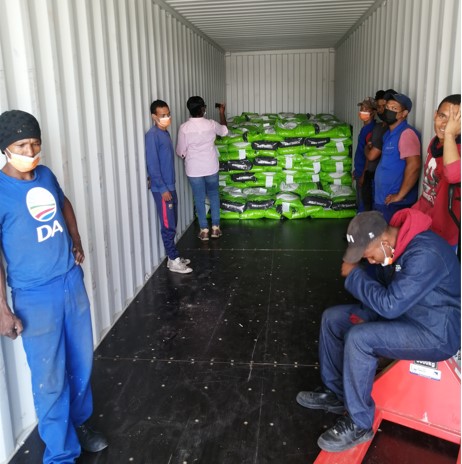 Inbound Cargo Inspections in Nigeria
Inbound Cargo inspections in Nigeria - Are you sending products to Nigeria and want to confirm they have arrived intact? Have you already shipped products to Nigeria but need them to be checked? Goodada can send an inspector to any warehouse, port, or airport facility to count and check goods that have arrived in Nigeria. You will receive an inspection report with the findings within 36 hours. To learn more, please visit Goodadas Inbound Cargo Inspections page.

Solving Communications & Delays with Suppliers in Nigeria
Are you experiencing delays or poor communications with your Supplier in Nigeria? Do you need someone to visit the seller's premises to get an update on your order or find out why there have been problems with your order? Our inspectors can go to any factory or warehouse n Nigeria to meet with your supplier and provide you with an independent update of your order. If you require a call while the inspector is at the factory, we can organize this for you. To learn more, please visit our During Production Inspection Service page.

Freight Insurance for Nigeria
Freight Insurance for Nigeria? Reduce the risks of a financial loss if your products get damaged or lost during transportation. Goodadas Freight Insurance enables you to purchase insurance online for your orders. Click on Goodadas Freight Insurance to get an online quote with the best value rates.
Are you making payments to Nigeria in €Euros, $USD Dollars, or Nigerian Naira? Eliminate expensive banking charges and poor exchange - try Goodada's International Payments Service. You can save lots of money.