Bangladesh Inspection Quality Control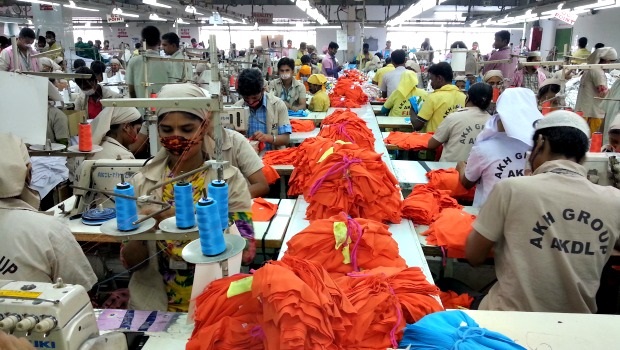 Bangladesh Quality Control Inspections and Factory Audits
Bangladesh is classed as a Least Developed Country (LDC) by the United Nations. At the time of writing Bangladesh is not part of any trading blocs. But that does not prevent trading opportunities for companies and Goodada's Bangladesh Quality Control Inspections are there to help companies trade in Bangladesh.
Garments are the key product of Bangladesh's Industrial sector. In 2017 over 80% of exports from Bangladesh were garments and garment related products. Bangladesh also produces and exports knitwear, agricultural products, frozen food (fish and seafood), jute & jute goods and leather.
Goodada's Bangladesh Inspection services can inspect all these products at any location in Bangladesh. Our inspectors can be at any premises in Bangladesh withing 48 hours after an order has been placed through our website. Goodada will provide you with a downloadable Bangladesh Quality Control Inspection report which will provide you with the key inspection findings.
If you have any questions about Goodada's Bangladesh Quality Control Inspections please contact:
Contact Person: Aidan Conaty
Mobile- Messenger (Click to Connect)

Laptop / PC (Click to Connect)

Phone:(Europe/ Rest of the World) +353 1 885 3919 ; (UK) +44.020.3287.2990 ; (North America) +1.518.290.6604
Avoid the high costs of faulty products by using Goodada's Bangladesh Quality Control Inspections which are:

Supplier Checks (FA) - Bangladesh Quality Control Inspection
Goodada's Bangladesh Supplier Checks are required by clients who are unsure about a Supplier in Bangladesh and require a risk assessment to be conducted on the Supplier. Goodada's Bangladesh Inspectors will visit the suppliers premises and check their quality control procedures, their product processes and operations. Inspectors aim to be at the factory within 48 hours after the Audit order has been confirmed.
Click Here to find out more about Goodada's Bangladesh Supplier Checks.

Bangladesh Completed Products Inspection (FGI)
Our Bangladesh Completed Products Inspection is the requested inspections by our clients. Our inspectors visits the Suppliers premises in Bangladesh and visually check the products in terms of quality, customer requirements, dimensions and packing. The inspectors can also collect samples and send the samples to the client for final approval. To find out more about Goodada's Completed Products Inspections please Click Here .

Loading Checks (CLI) - Bangladesh Quality Control Inspection
Having a Loading Check conducted at your Suppliers premises in Bangladesh will ensure that the correct products are loaded into the shipping containers according to your instructions. Our Inspectors will record the products being loaded, they also inspect the shipping container and witness the products being loaded into the container. After the products have been loaded the inspector records the container number and where appropriate they witness the container being sealed. To find out more about this inspection please Click Here

Bangladesh During Production Inspection (DPI)
If you are experiencing production delays or need to get an update of the progress of an order at at factory in Bangladesh, then Goodada's During Production meets this need. It is very popular with companies who are experiencing communication issues with the Supplier in Bangladesh. Our inspectors will visit the suppliers factory to find out and see the progress of your order. To find out more please Click Here

Production Monitoring in Bangladesh Factories (PM)
Our Bangladesh Production Monitoring service offers you daily reports on the amount of goods made that day along with any problems which occurred during that days production. This service is very popular with companies who have production time sensitivities and require constant updates. The on-site inspector will work with the production manager of the factory to ensure that your order is made to any pre-agreed schedule and specifications. Click Here to find out more....

Social Audit in Bangladesh
Unfortunately Bangladesh has a very poor record when it comes to exploitation of employees. Over recent years it has been in the news with factory collapses and worker abuse. Goodada's Bangladesh Social Audit is used to buyers to evaluate and ensure that the suppliers in Bangladesh whom they are sourcing their products from have accepted working standards and practices. The purpose of Social Audit is to promote, develop and maintain workplace practices that are socially acceptable. A Social Audit reassures your customers and suppliers that your business is socially accountable. Click Here to find out more.

Bangladesh Trade Support Services
Are you making payments to your supplier in Bangladesh? Avoid costly banking fees and poor exchange rates. USe Goodada's International Payments service. Click Here to find out more...
That the risk out of moving products from Bangladesh to your warehouse. Goodada's Cargo Insurance can protect against all risks and can include not only the full value of the goods, but also the cost of shipping, duties, and also up to 10% or even 20% extra to cover anticipated profit. All orders can be placed online. Click Here to find out more...